cPanel Reseller Package and Feature Customisation
This cPanel Reseller service allows you to create custom feature sets for your accounts, controlling which functions are available for use, and resources allocated to each account. This guide illustrates the available options.
Accessing the Reseller Interface:
You can manage your cPanel accounts through the Web Host Manager interface. This can be reached at http://nsv47.dnshostmaster.net/whm
Features
The Feature Manager enables you to control the functions that are available in your customer's cPanel account.
Click on Feature Manager in the Packages menu.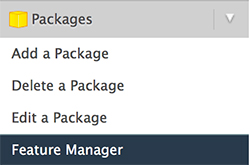 Enter a name for the feature list and click on Add.
Tick the relevant boxes to enable or disable desired features.

Click on Save when you have finished editing the feature list.
Packages
When creating an account, you can specify the package which the account should use. Applying a package will let you assign accounts with a preset amount of disk space, bandwidth, email accounts, etc.
To access the Packages Menu, click on Packages on the main screen of your WebHost Manager interface.
Click on Add Packages.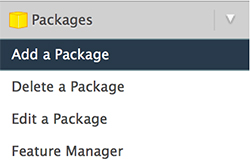 Enter the name of the package. Allocate the maximum disk space the account can use in the Quota field.
Enter the maximum number of FTP Accounts, Accounts, Max Email Lists, Max SQL Databases, Max Sub Domains, Max Park Domains, bandwidth allowance, and Max Addon Domains fields.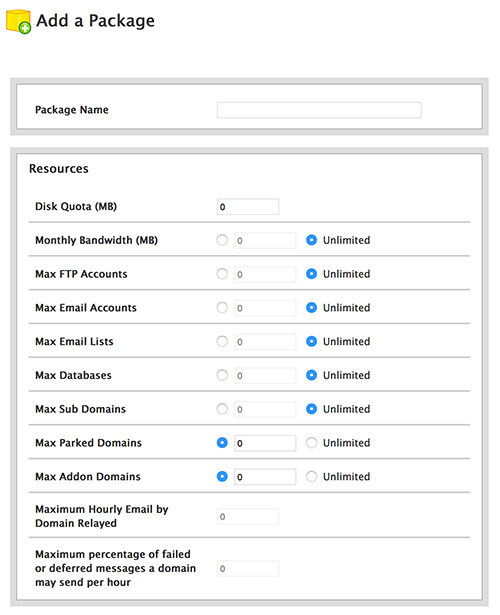 Indicate whether CGI access is allowed.
Click on the default theme for the account in the cPanel Theme field.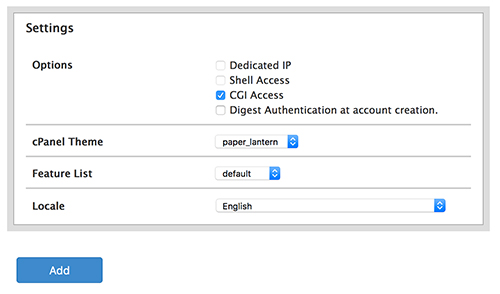 Click on the default feature list for the account in the Feature List field.
Click on Create.
---